Dear Polishers,
So a brief introduction, there's this show called the Tudors, which I extremely like (because of Jonathan Rhyes Myers and Henry Cavill) back then.
And If you know me well, I love collectiong merchandise and limited edition stuff. It was quite a time when one day, I'm checking Ji Baek's web and found out that she has made a collection based on The Tudors family!
Clockwise: They are Catherine A, Catherine H, Jane, and Anne
I was like HOLY CRAP! I must have one of these polishes and thanks to TRIBECA, they've made my dream come true by letting me order some of the polish for me. (Too bad due to lack of money, I couldn't buy Catherin A for completing the collection.)
Although, I'm a bit annoyed for the fact there's 2 similar name for the polish, I personally prefer she use their last name instead of their name. Aragon, Boleyn, Seymour, and Howard... although they don't sound feminine at all) but beside that I think JiBaek did a great job for choosing the right color which characterized the polish. I think the color is very suprising but when you see it, it fits well with the character.
Anyway, I give you some cool swatches by miss Temptalia and the characters of Henry's Wives!
First is
Catherine Aragon
The first wife of Henry... I couldn't find any picture of her with Henry, so... she still stand there alone. Poor Catherine. For the color, JiBaek choose nurturing, motherly, noble yet strong color.
Second is
Anne
Boleyn
The seductress 2nd wife of Henry, first I though her color would be a hot tone like maroon, brownish, wine, and I'm a bit surprised to see JiBaek choose this dark green olive color. But then again I can relate how this wild dark polish seduce you slowly but sure and I guess JiBaek try to interpret her fierceness.
The third one is
Jane Seymour
Rumour said that She's the one that Henry trully love because she gave him a son. (Which is a ridiculous idea nowadays) and she's the opposite of Anne. She's very feminine and sweet, mild I can say. Very calm color like her character.
And the last one is
Catherine Howard
The last and youngest of all... I think JiBaek tries to make her color look edgy and popular at the same time. The denim color makes sense... I feel that these kind of color have a chance to be the it color. I can feel the youthful in it.
So back on topic, After waiting for month, My package had arrived and as usual, I'm so excited with it although I'm in some dilemma because there will be 3 colors that I need to wear and truthfully some of these color didn't really get along well and really... how can u choose for these gorgeous colors?! Luckily... only two of them arrive (Anne was left in Dika's house), which made my job a bit easier for choosing what color to use!
and here they are... the two wives of Henry Tudor
From Left to Right: Catherin H and Jane
At first, I just can't wait trying my RBL Catherine H, It's a very gorgeous! The color look in the bottle! I mean blue with pink purple blue micro glitter, that's just scream "queen bee"! Catherine was definitely my first choice back then. I was about to use it when I stop and start digging to Jane, the other polish and thank God I did because I was astound! (Truthfully, I buy Jane because I need to fulfill some order quota)
I can't believe that I would ignore beautiful Catherin for some nude greyish polish that I would never like! So, I did my manicure rite away while adoring the cream grey!
Still can't believe that I'm in love with this color! (The only disappointment of Jane is that there should be this gold micro glitter in the polish but they're gone as soon as you're applying the polish to your nail). I would say it was a sophisticated color and it goes great with my skin tone!
OH ADORE THIS POLISH SO MUCH!!
I realize that this color is almost similar like Deborah Lippmann Waking Up in Vegas.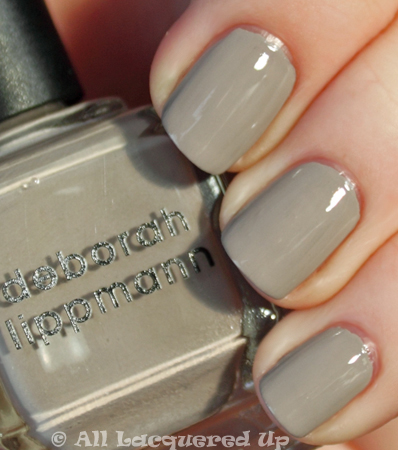 Can't stand on Cam Whoring in Gaga Pose!
Should I buy the whole collection? I feel a bit guilty for leaving Catherine behind. (It's like she always left behind even when she's alive) I'm thinking and in dilemma...
Until then, Happy Polishing!
XOXO,
NAILheartINK